When designing ITS systems intended to convey critical messaging to drivers, transportation agencies must consider the requirements for each deployment, and make choices regarding more versatile, full matrix dynamic message signs versus more affordable blank out signs with limited messaging. Often blank out signs can provide all the messaging functionality needed at a fraction of the cost of full size DMS, and do not require advanced communication networks or other infrastructure required by signs with full messaging capability.
DMS vs. BOS
Feature, Benefit and Cost Savings Analysis
DMS/ VMS
Blank Out Signs

Display

Full Matrix, Full Color, Amber, Text, Graphics
Full Color, Amber, Text, Graphics

Control

DMS Controller w/central processor, remote software and communication network

Dry contact closure(s), traffic signal controller (optional)

NTCIP Compliancy

Yes

Yes

(optional)

Size & Dimensions

Any size, any dimension

Any size, any dimension, including custom design

Power Consumption

High power consumption due to number of components including LEDs and power supplies, and DMS controller. Power consumption typically 50% (variable) or greater compared to BOS.
Energy is needed only when a message is displayed. Energy efficiency is higher than DMS

Solar Power Capability

Limited to high-efficiency amber LED models only.

Amber and full color models capable of being reliably powered by solar systems.

Price

Price typically 50% or more (variable) compared to BOS

Fraction of the cost of full matrix DMS. Cost savings increase with larger models.
Blank Out Signs offer many attractive features when compared to traditional DMS. However, Blank Out Signs are limited in the number of messages or symbols that can be displayed (typically 1-6 messages per BOS), so they are best used in specific applications. Typical deployments utilize MUTCD symbols to regulate traffic, or display dedicated messages to get the attention of targeted drivers and convey warnings such as "Prepare to Stop" , "Over-height Vehicle Detected", or "Truck Must Enter Weigh Station."
Case Study
Lane Management
Pont Champlain, Quebec, Canada | 2014-2015

Similar BOS displaying different symbols mounted on static sign or overhead structure
Symbols

Truck symbol Green to allow truck in the lane

Truck symbol Red to prevent trucks in the lane

Left Yellow arrow to indicate that a lane is closing

Savings compared to a full matrix DMS solutions: 65%
The Best Applications for Blank Out Signs are:
Traffic Regulation with MUTCD: "No Right Turn", "No Entry", etc.
Lane Control Sign (Red X, Green Arrow, etc.)
Specific Warning Messages:

To prevent a truck to enter a low tunnel "Danger / Over height"

To warn drivers when a road is flooded "Road under water/Detour"

To guide trucks after checking their weight ; "Truck must enter weigh station / Truck pass-by weigh station"

To indicate "Open /Closed" to a gate entrance or lane

Traffic Calming / Road safety:

BOS can be vehicle activated. When a vehicle arrives at a pre-defined distance to the BOS, it lights or flashes or alternates several symbols. It is ideal to reduce speed for example when approaching a dangerous curve or dangerous traffic pattern .
Typical Blank Out Sign Technology
Typical BOS product lines offer a selection of pre-existing and pre-defined messages that have been utilized for several years. These are applicable in many circumstances; however utilizing only existing MUTCD symbols and pre-formatted messages strictly limits the functionality and versatility of Blank Out Sign technology. Effective BOS design allows the end user to adapt to specific needs and create new, customized messages in a large range of colors and sizes. Today's technology allows Blank Out Signs to be customized within a large field of options, including large format highway applications.
SESA Blank Out Sign Technology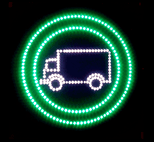 SESA has completely remodeled the concept of BOS in order to provide several cost effective solutions for state and municipal agencies - a viable alternative to full matrix DMS when it is not necessary to display more than 3 to 4 messages or symbols. SESA designs and manufactures multi-phase BOS customizable for each project and client at any size and dimension. SESA's design utilizes robust LED technology that allows its engineers to design a wide variety of symbols and text, and accommodate them within standard sizes or custom built housings. All signs meet MUTCD requirements and housings are built to comply with NEMA 3R standards. SESA's multi-phase BOS are built without a polycarbonate panel, eliminating the phantom effect, which can distract drivers while still maintaining high contrast ratio. Several options are available, such as vehicle activation, remote control, and with or without visors. Consistent with all SESA products, these BOS were designed with high-energy efficiency and most can be solar powered.
Case Study
Weight Station Management
Georgia | 2015
Text:


TRUCKS MUST ENTER WEIGH STATION
TRUCKS BYPASS WEIGHT STATION + arrow pointing left

Savings compared to a full matrix DMS solutions: 55%
SESA offers free consultation and design, no matter the project size. Want to know more?