State DOT highway Intelligent Transportation Systems (ITS) are progressively capitalizing on comprehensive Variable Speed Limit (VSL) designs. As a more advanced and timely safety warning system, changing the speed limit based on weather or traffic conditions in focused locations offers more precise warning to stretches of especially vulnerable roadways. In often non-negotiable winter road conditions, unreliably slippery roadways require more precise, distinctly locational, lower speed limit advisories. Ideal weather conditions of summer, not so much. Variable speed limit systems are continually proven ITS safety devices in such states as New Hampshire, Wyoming, Minnesota, and Utah. The VSL Subscribers list continues to climb as a cost effective, dynamic messaging system, in particular with rural locations.
VSLs foster opportunity for DOT's to utilize accurate placement for both regulatory and warning applications. Serving as warning signs with amber colored characters in particularly hazardous locations, the dynamic aspect of posting variable speed limits or for that matter, blanked out signs, creates a positive and engaging interface with the driving public. Applied as a regulatory sign, VSL's with white characters bring into play stricter standards with law enforcement options. Excising proper design criteria, these signs can meet MUTCD standards for lettering in sizes 12 to 18 inches.
The composition of a Variable Speed Limit sign
Most common Variable Speed Limit signs utilize a static MUTCD speed sign with the words "SPEED LIMIT" with the lower portion listed as two digit numerals displayed via a changeable LED sign. Typically VSL systems utilizing hybrid static / LED display systems provide the greatest price to value on a first cost basis and over the sign's lifetime. Second consideration are full matrix signs.
Hybrid two-material composition VSL signs allows for employment of the most positive aspects of both static and dynamic messaging. The consistent message MUTCD static portion is the best value while the two digit LED portion forces active driver engagement with revolving or changing speed displays - a best of both worlds system. The two digit LED portion should have a rigid metal face to protect from flying debris, snow plows, provide higher visibility over time, and to maximize sign longevity.
Recently with a full spectrum of use in the 4 foot by 5 foot standard size, complete LED full matrix dynamic message signs find increased value with the flexibility to display not only VSL statement a full matrix but as gateway / trailblazing / identity signs in less threatening weather environments or conditions. Full matrix signs however, stretch budget dramatically so not a likely or practical option where sole use is a VSL only application.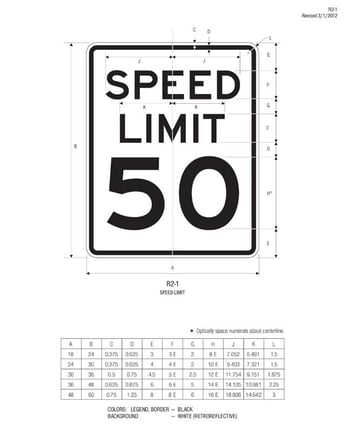 MUTCD Typical Speed Limit Sign
Whether a static / dynamic hybrid or a full matrix dynamic, the sign must adhere to standardized MUTCD guidelines. Overall, sign size can be adaptable to roadway design and typical speed designations for roadway type as set down with MUTCD guidelines. As an asset, all VLS signs are monitored by a local NTCIP compliant controller connected to traffic centers for timely, accurate response to fast changing conditions. As an enhancement, public safety officers can provide instant feedback to road conditions in designated segments, for not only weather induced, changing driving conditions but as well for emergency response or extraordinarily dangerous and unpredictable events. Prior, roadside incandescent flares or a rapidly congesting roadway where the only indicator of upcoming hazardous conditions.
3 Questions to further define the optimum VSL system

1. Amber, White or Black digits?
Options to display two-digit speeds exist in white or amber. Most commonly used, amber colored signs or amber LED wording represent warning ahead notifications by MUTCD guidelines. White LED digits and similarly colored white / black static fall in line as regulartory devices for traffic control with law enforcement consequences. Using white LED digits has its limitations in terms of color purity and surrounding winter background tones in the roadside environment.
With static signs, the black-on-white design employed by DOT's provide greater contrast while from a dynamic sign perspective, the reverse or negative coloration (image B below) falls in line with regulatory standards but duplicating MUTCD lettering can prove to be a challenge. Consultation with an Intelligent Transportation System-only LED sign manufacturer addressing exact needs is critical prior to specification. Be certain the manufacturer has experience building lighter weight options (less than 40 lbs for the LED two digit sign with front fold down access). This will ensure easier long term maintenance, simpler mounting, and less costly structural elements. Large, 100-150 lb signs may require more cost, short and long term.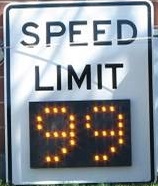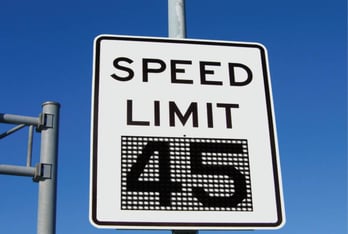 Amber digits Black digits on white background
2. What are the most utilized sizes for the VSL LED digits?
MUTCD recommendations are based on road speed and driver visibility requirements. For highway use, regular 18" numeral displays is acceptable at speeds typically posted at greater than 45 MPH. 12" characters are allowable at lesser speeds of 45 MPH and lower, often found on parkway or arterial surface street applications.
Typical 18" VSL character display do not precisely match MUTCD dimensions in most current signs on roadways now. Be sure to inquire further with an ITS-only manufacturer with NTCIP compatible signs and controllers.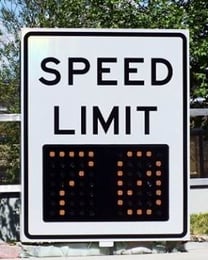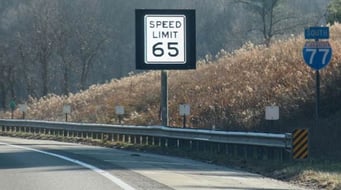 Character Matrix VSL Sign Full Matrix VSL Sign

3. What about solar-powered VSL signs?
Given the rural nature of many VSL placements, integrated solar power is an excellent option. Assessing accurately the power use by location, the 2 digit nature of hybrid VSLs require low power and due to flexible placement should be a prime consideration rurally. Note though, off the shelf solar power designs seldom have success in these applications past the first year or two of use. As an ITS and possibly enforceable regulatory sign, it is imperative VSL systems not fail prematurely and be predictably consistent. Explore overall wattage use, site location and system expectations, selecting a manufacturer who will engineer especially designed solar LED display boards and experience in solar powered sign placement. Again this ITS-only sign manufacturer should have deep knowledge and experience in specialized integrated solar power systems for the roadway. Require references when investigating.
SESA and Variable Speed Limit Signs
SES America offers a variety of VSL systems covering the entire possibilities, from white to amber and full color displays. We can apply our standard character display boards to create the desired matrix while incorporating a slim, low weight housing to mount on a static sign. Or, should versatility and consistency of image be of importance, a full matrix DMS in higher resolutions and degree of clarity. SES America has pioneered specific designs for VSL signs which perfectly reproduce the MUTCD character design.
Whether a DOT professional, engineer, consultant, or contractor, our consultants are available with pragmatic, innovative options possessing deeply progressive SESA industry-leading features in energy efficiency, maintenance software, custom design and excellent customer service.