SES America, Inc. celebrates the conclusion of the 2018-2019 ELECOMP Capstone Design Program at the ELECOMP Summit held on May 10, 2019. The program is created by the University of Rhode Island's Department of Electrical, Computer and Biomedical Engineering and it aims to promote a dynamic collaboration between senior-level engineering students and industry sponsors to design, build, program, and test solutions to real-world problems.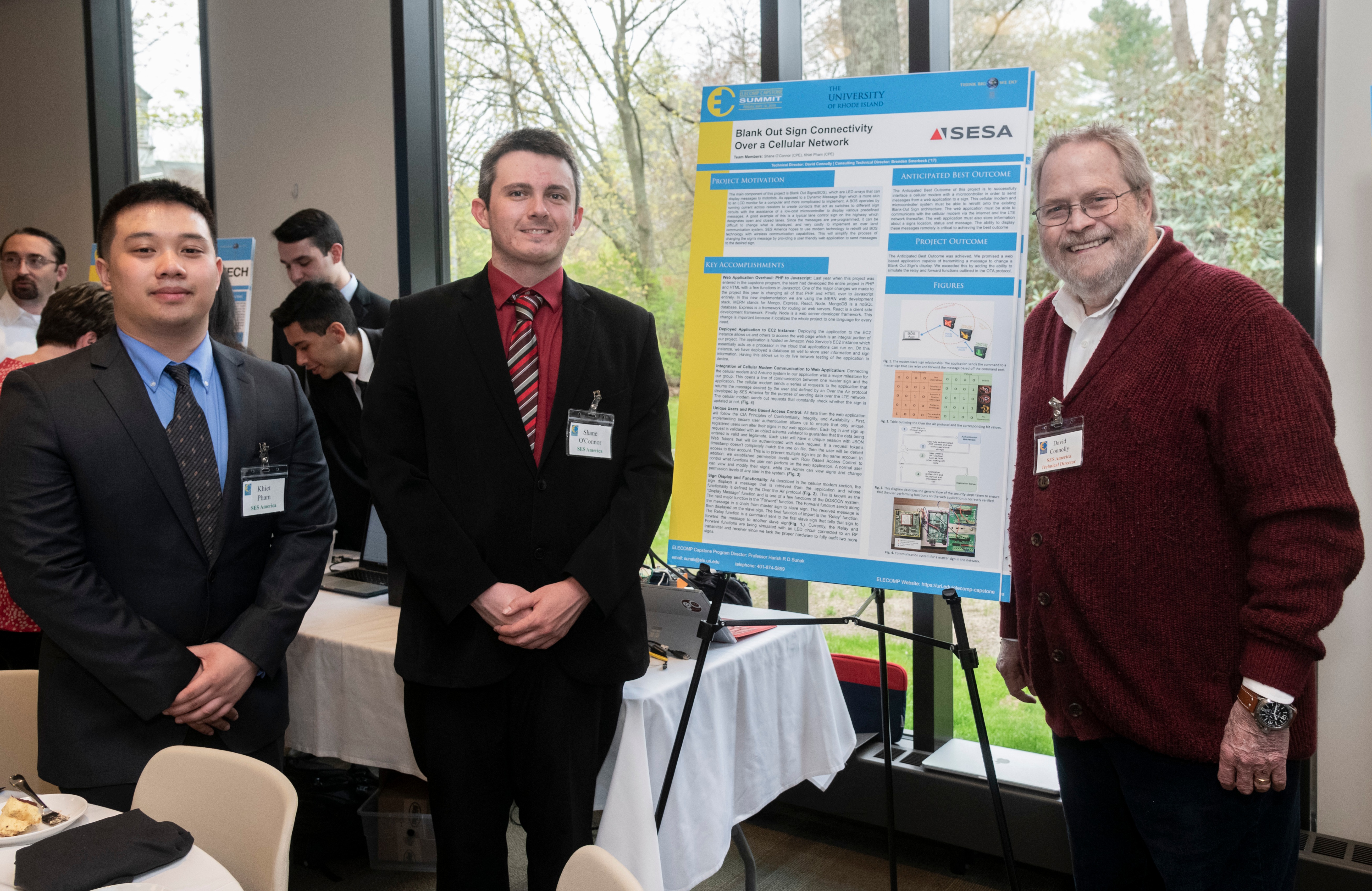 SESA Customer Support Engineer David Connolly (R) with URI Engineering Students, Khiet Pham (L) and Shane O'Connor (C) at the 2019 ELECOMP Summit
With the Capstone Design Program, students gain valuable experience as they apply theory to practice, while industry sponsors benefit from introductions to young talent and the innovative solutions they present.
What are some of the advantages for students?
A practical real-world design experience
Development of team problem-solving skills & critical thinking; effective oral & written communication skills; adaptability, reliability & flexibility skills; technical proficiency
Experience budgeting time and finances
Project management skills, including planning, budgeting and scheduling
The chance to meet and work with potential employers
Networking at fall presentations and the spring Summit.
What are the potential benefits for industrial sponsors?
An opportunity to initiate elective research projects
Benefiting from the creative talent of students
Creation of innovative and competitive products
Ownership of intellectual property
Recruitment of potential employees, after an 8-month "interview process."
Positively impacting a number of students with a sponsorship grant
SESA and its Capstone Design Team successfully developed the Blank Out Sign Connectivity Over Cellular Network project which harnesses the ubiquitous cellular phone and data network to create a communications mechanism that provides the necessary control and monitoring functionality while preserving lower cost of operation of SESA Blank Out Signs (BOS) in their deployment.
With proper fault detection, Blank Out Signs can be implemented to indicate hazards without the possibility of danger due to hardware failure. With this increased functionality, BOS can be deployed in rural areas of the nation and on long stretches of highways and freeways wherever a cell network is available. Further implications include response-based BOS signs interfaced with speed or traffic sensors to alert motorists of danger. The low-cost, manageable and smart system proposed by SES America, Inc. will directly affect and improve road safety in the United States.
Manage your fleet of Blank Out Signs from any computer or mobile device. Download the BOS Cloud Connect Brochure to learn more!