As part of a multi-year contract with the Arizona Department of Transportation, SES America, Inc. is currently installing over thirty (30) new high resolution, full color Retrofit Upgrades of existing amber legacy Dynamic Message Signs (DMS) in both urban and rural locations all across the state. These signs will post both weather and travel related messages capable of full matrix, full color characters on a roadside application. Retrofit upgrades have already been performed in cities such as Flagstaff, Williams and Prescott.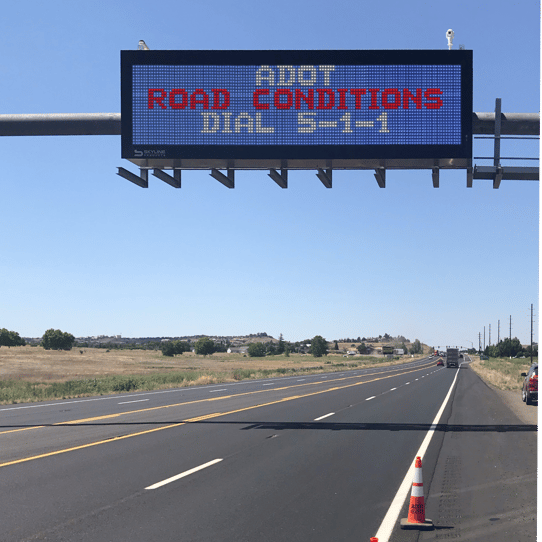 Full Matrix, Full Color Retrofit Upgrade in Flagstaff, AZ
Unable to obtain spare parts in a timely manner and at a reasonable cost, the Arizona Department of Transportation decided to upgrade their existing legacy signs (previously installed by another vendor) that were malfunctioning all the time.
Old electronic components are replaced with SESA parts of smart electrical design. Critical wares are changed and all other functions are checked during the upgrade. For its display boards, SESA utilizes the latest LED technology with six (6) multi-color LEDS per pixel which guarantees that the signs remain highly visible under the very bright and sunny conditions in the state. This technology was also adapted for Arizona's hot climate, eliminating the need for ventilation or climate control within the housing. Lastly, SESA pre-wires and fully-factory tests its retrofit kits prior to delivery so an upgrade can be completed in just a few hours on site.
in addition to updating sign functionality using existing housings, SESA will also provide assistance to AZ DOT in the technology transition during installation and final commissioning of every sign at each site location.
Full Matrix, Full Color Retrofit Upgrade in Prescott, AZ
Phil Perut, President comments: "We want to thank AZ DOT for their continuous confidence in our products. We are very proud that AZ DOT chose SESA yet again for their DMS upgrade. We have now retrofitted a total of 140 DMS in Arizona alone and more than 700 nationwide. Partnerships with DOTs like Arizona are beneficial for taxpayers because it is based on long term vision as well as cost effective solutions. The SES America team will always stand by its products and be available to provide maintenance assistance whenever needed".
While others only offer replacement of the sign controller, SESA provides a full retrofit package solution allowing the DOT to upgrade their entire DMS with a technically advanced, energy efficient LED display and will consume up to 50% less energy utilizing significantly less tax-payer money over the sign's life span.
Another retrofit program has also recently completed in the state of Florida.