SES America, Inc. recently completed the manufacturing and installation of full color LED Dynamic Trailblazer Signs for the Michigan Department of Transportation, and is set to soon begin manufacturing of additional signs for the next phase of this ongoing work.
---

What Makes This Project Interesting
The signs are part of integrated corridor management along I-75 designed by the Michigan Department of Transportation. Each sign is part of SESA's Messenger 5000 embedded DMS series, a line of embedded DMS designed to display travel time, toll rate, lane status, or traffic control information. As part of this project, the embedded DMS is intended to divert and manage the influx of traffic, and reduce traffic queues and congestion on freeways for both Macomber and Oakland counties. The signs feature a full color display capable of showing a variety of arrows that re-direct traffic as necessary onto surface roads and alternate routes. The signs are controlled by SESA's state-of-the-art NTCIP-compliant SCU6 controller housed in field cabinets near each site. Each sign is placed at strategic locations and display the indicative arrow only when needed.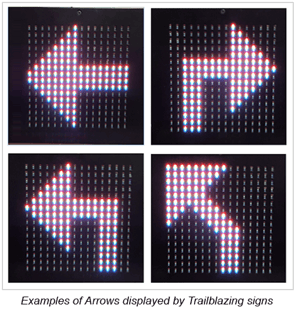 This combination of static sign and embedded dynamic display is very cost effective, advantageously replacing an entire full color/full matrix DMS. Cutting edge, energy-efficient technology was utilized to minimize the quantity and size of command, control, and power components, which allowed the components to be installed in a small NEMA 4X cabinet attached to each sign structure for the initial deployment.
On the subsequent deployment, this design was further refined, allowing all components to be installed within the sign itself, while maintaining the slim sign housing design required for the project. Each sign housing has a depth of less than 4 inches, which allows for easy flush-mounted installation to the static sign panels that hold each Dynamic Trailblazer Sign.
Each sign was manufactured in the U.S. at SESA's main production facility in Warwick, RI. Installation of the signs was done by J. Ranck Electric, based out of Mt. Pleasant, Michigan. Manufacturing will continue into early Summer, with deployment of the remaining signs tentatively set for later this year.
Further Enhancements
To lower installation and operation costs, similar embedded DMS models with solar powered capabilities are available. SESA's SolarSign 5000 series is ideal for this type of application. With the same housing and display properties connected to the grid, a solar sign has no operation costs and does not require costly and time-consuming trenching and cabling for power and communication.