SES America, Inc. (SESA) has completed the manufacturing and commissioning of a solar-powered Dynamic Message Sign (DMS) along Interstate 93 Northbound at Tilton, New Hampshire. This deployment is part of the S6000 product family and is one of several solar system applications currently being deployed by SESA in the State for ITS equipment including DMS, CCTV and Variable Speed Limit systems.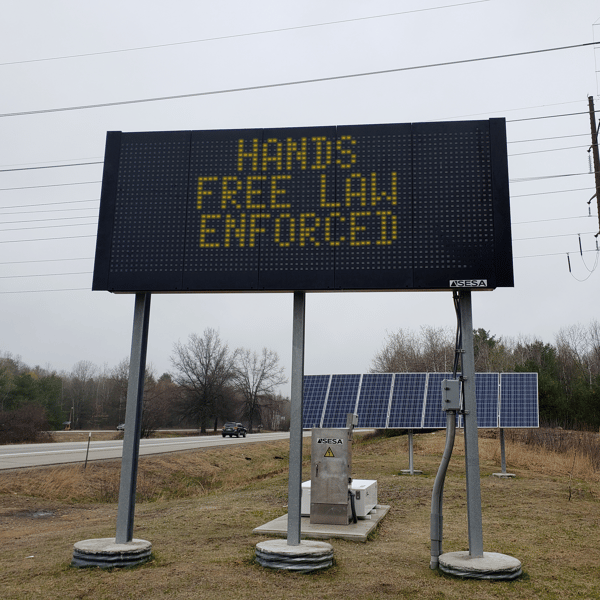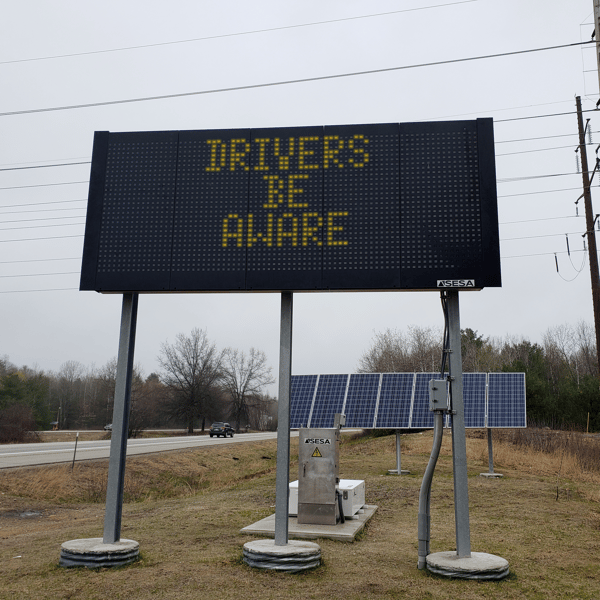 Full Matrix, Amber S6000 DMS on I-93 Northbound, New Hampshire
The front access, full matrix, amber LED sign employs SESA's solar power technology that features high efficiency components specialized for solar power applications and are fully compliant with NEMA TS4 requirements. This type of DMS is ideal for rural applications in which establishing connection to grid-based power is challenging and/or cost prohibitive. The sign is controlled via SESA's state-of-the-art SCU6 touch screen DMS controller that is NTCIP compliant and fully integrated with New Hampshire DOT's Compass Advanced Traffic Management System (ATMS) for ease of use. Communication between the SCU6 DMS controller and ATMS is achieved via wireless 4G modem.
The installation site is powered via 24 VDC sealed lead acid battery bank enclosed within an insulated NEMA 3R cabinet and a seven panel solar array providing over 10 days of autonomy.
In addition, SESA provided full solar power system design including site survey, system load analysis and solar power calculations. The S6000 was engineered and manufactured to be utilized specifically for the solar applications required under the project, with energy efficiency that sets a new standard for the DMS industry. The end product provides all the functionality and reliability of non-solar powered DMS, while minimizing the size and expense of the solar power system.
SES America is an ITS-only manufacturer of messaging solutions for North American streets and highways since 1986. Long considered the innovation leader, SES America is a solutions first, service focused supplier of the most advanced, energy efficient designs in USA and North America.