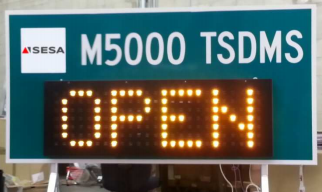 SES America, Inc. is proud to announce the addition of its M5000 Task-Specific Dynamic Message Sign to the Florida Department of Transportation's Approved Product List (APL). The addition of the M5000 TS-DMS to the APL is a continuation of SES America's commitment to bring its full product line of industry-leading energy efficient DMS to the State of Florida.
The M5000 TS-DMS features low power consumption display boards outfitted with high intensity LEDs, housed in a NEMA TS-4 rated DMS housing. The M5000 is designed to be installed within static highway signs, perfect for applications such as toll rates and lane status messaging.
The M5000 TS-DMS joins a short list of embedded DMS approved by the Florida DOT Traffic Engineering Research Lab for sale in Florida. Known nationwide for stringent quality standards, districts in Florida must adhere to the FL DOT Approved Products List for all Traffic Control Device purchasing decisions.
SESA is committed to maintaining the quality and performance requirements set forth by the Florida Department of Transportation's Traffic Research Engineering Lab throughout its entire product line. All SES America, Inc. DMS comply with the latest version of the National Transportation Communications for ITS Protocol (NTCIP) which allows them to connect seamlessly with existing NTCIP-compliant Intelligent Transportation Systems.
To review the full product line of Intelligent Transportation System solutions offered by SES America, including innovative embedded and full-size DMS, please visit: www.sesamerica.com.