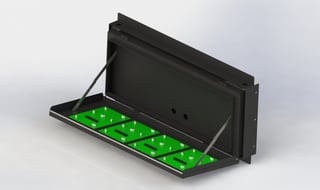 SES America, Inc. proudly announces the addition of its single line, full color embedded DMS to the Florida Department of Transportation's TERL-approved product listing.
The addition of full color embedded DMS to SESA's already approved product line continues to build out the offering of high-quality, energy efficient dynamic message signs the Rhode Island-based company manufactures for installation on highway projects across the US and Florida.
Each embedded DMS is able to display standard characters in both 12" and 18" heights in a variety of vivid MUTCD-compliant (Manual of Uniform Traffic Control Displays) colors, and is capable of being used for a myriad of applications including variable toll rates, lane status messaging, travel times and advisory messages. The signs are controlled by a state-of-the-art controller located in a roadside cabinet, complete with a full-color touch screen, full NTCIP compliance and the ability to control multiple embedded DMS from a single controller.
SESA president Phil Perut commented, "SESA continues to lead the industry in energy-efficiency, reliability and innovation, and the addition of our full color embedded DMS allows us to bring this technology and all of its benefits to Florida. TERL is well noted for its stringent requirements and exhaustive review process, so we are delighted to see the quality and performance of our technology validated by an organization that is well respected across the industry."