SES America, Inc. has partnered with Florida Department of Transportation and a local contractor to successfully complete installation and commissioning of thirty five (35) new Retrofit Upgrades of existing amber legacy Dynamic Message Signs (DMS) in major highways along downtown Jacksonville and surrounding area.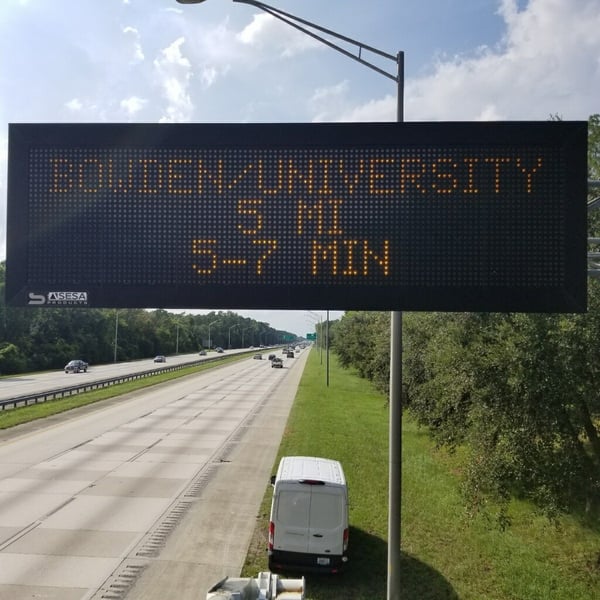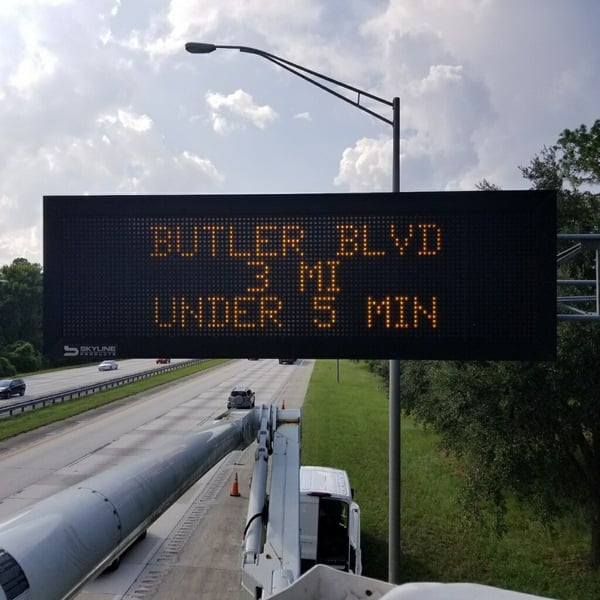 Amber Retrofit Upgrade along I-95, Jacksonville
Existing signs whose design or functionality has deteriorated yet are fully capable of state-of-the-art restoration (with existing housings) are upgraded with the SESA Retrofit Upgrade. For this project, old electronic components are replaced with SESA parts of smart electrical design. SESA also utilized the latest LED technology which guarantees that the signs remain highly visible under the very bright and sunny conditions in the state.
in addition, SESA also provided full assistance to FDOT in the technology transition during installation and final commissioning of every sign at each site location. The signs are also controlled via SESA's state-of-the-art SCU6 touch screen DMS controller that is NTCIP compliant and fully integrated with FDOT's SunGuide Software for ease of use.
As with SESA's latest retrofit project in Arizona, the retrofit kits (one kit per sign) were fully pre-wired and factory tested prior to delivery. This unique approach facilitated the quick turnaround of the project - all 35 signs were installed and commissioned in only 22 working days. New sign replacement would have experienced up to a one year completion schedule from contract letting.
While others only offer replacement of the sign controller, SESA provides a full retrofit package solution allowing the DOT to upgrade their entire DMS with a technically advanced, energy efficient LED display and will consume up to 50% less energy utilizing significantly less tax-payer money over the sign's life span.
SESA Retrofit Upgrades are the right solution saving more than $1.2 million in sign replacement costs alone excluding installation costs of replacement signage-another $800,000 not spent installing new signs, done in half the time and importantly, not putting DOT or contractor field personnel at risk, all without road closures to the general public.