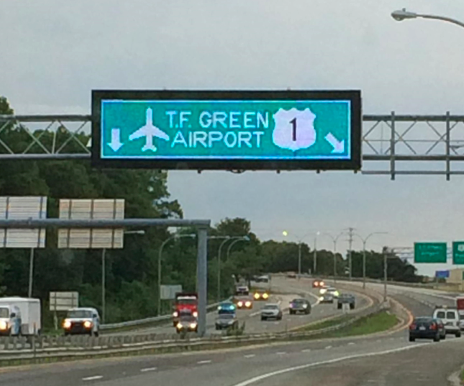 SES America, a Rhode Island-based manufacturer of dynamic LED signage, is pleased to announce the installation and successful commissioning of the first Full Color Walk-In Dynamic Message Sign in the state of Rhode Island.
The full color sign was provided and installed under contract with the Rhode Island Airport Corporation (RIAC) on the highway connector between I-95 and T.F. Green Airport in Warwick, RI.
"Providing this sign for the Rhode Island Airport Corporation allows us to continue to build and improve upon the work done when we installed the first DMS here almost fifteen years ago," said SESA Eastern Regional Manager Brandon Tessier. "This latest installation will allow Rhode Island residents access to critical airport information in a way not seen before here in the Ocean State."
The sign is part of SESA's Messenger 6000 family of highly energy efficient signs, and will be used by the Airport Corporation to display information related to airport traffic, parking and public advisories. With its large size, high resolution, and ability to display both text and graphics, the 28 foot long by 8 foot tall sign will dramatically improve the visibility of each message. The sign is controlled via remote software using state-of-the-art technology through an embedded, web-based control system also provided by SES America.
The use of high intensity LEDs and highly efficient power and control components are part of the Messenger series' overall system aimed at eliminating the need for expensive cooling systems and reducing maintenance costs, while providing 30% greater energy efficiency than the industry standard.
SES America is a NTCIP compliant manufacturer of messaging technologies in the transportation industry. Manufacturing dynamic message signs and other roadway messaging technologies since 1986, their focus is a solutions-driven, client centric approach to meeting application requirements, large and small. SESA's heritage is based on utilizing cutting edge technology to advance energy efficiency and increase functional and financial long term value while reducing maintenance expenditures. Better solutions in messaging technology - SES America.